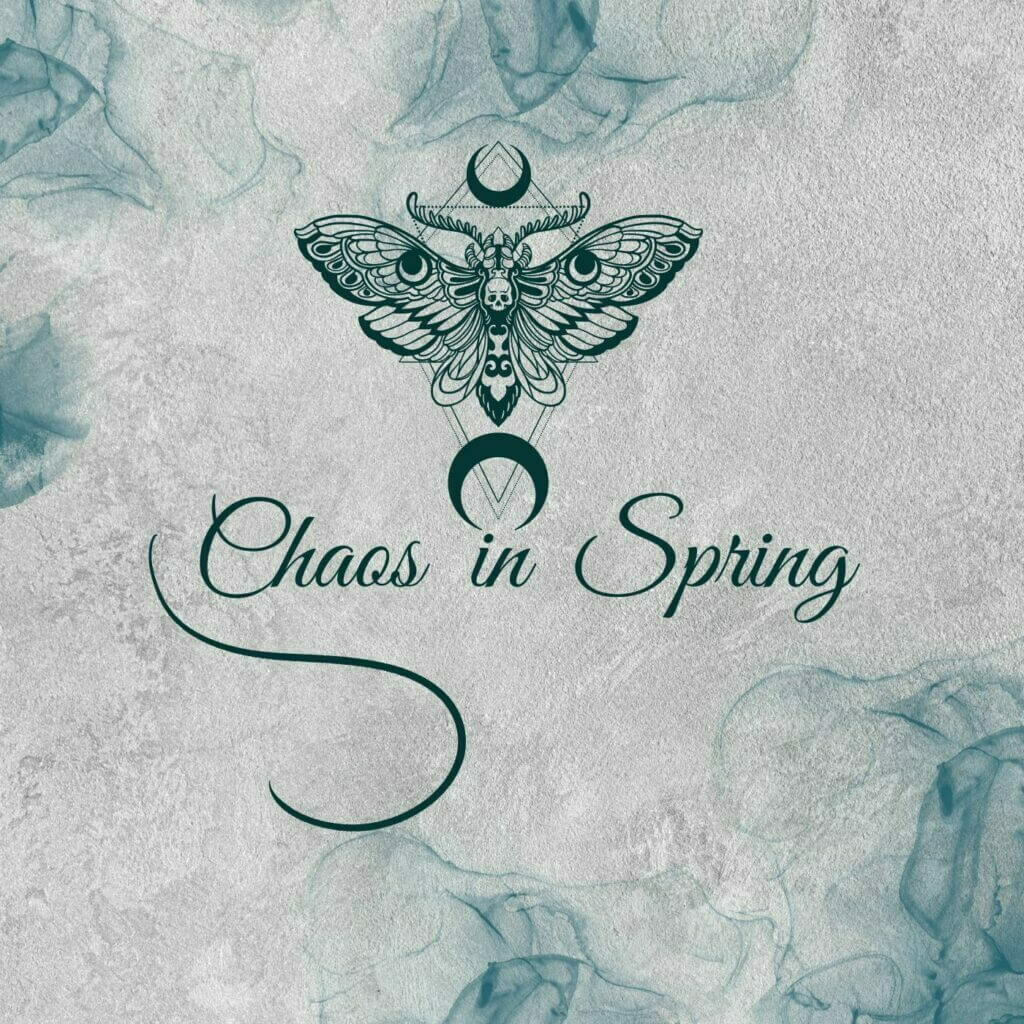 Our first single Weary Eyed is out since the 24'th of December. I want to thank everyone that took their time to check it out. Surprisingly, it has already over 1300 streams on Spotify and it grows by every hour. I couldn't ask for more…. from a debut single. I thought there will maybe be 10 streams or so. And that from friends and family. Naturally, now that the song is out for a few days… it is the right time to talk about the Chaos in Spring members and introduce our little project in more detail.
I do it on my webpage because I haven't yet created one for our band. Also, to be honest, I like traffic and am taking the opportunity by its horns to market both, the band and the blog. The webpage creation is on the enormous list of things that I must do though…
But first of all, let's talk about the single itself.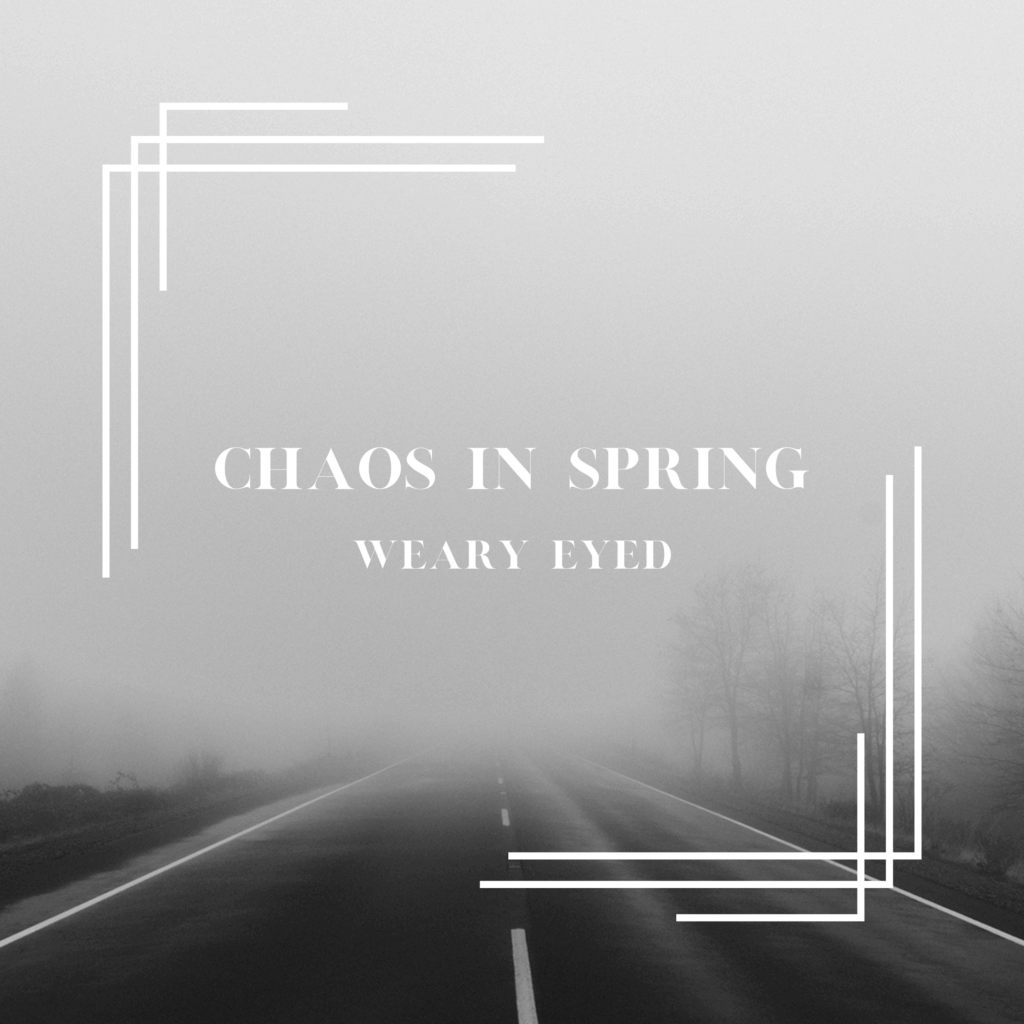 And who hasn't listened to the song yet… you can do it right here in this blog post *wink-wink*.
Weary Eyed is the third song in our repertoire that formed as an idea in 2021. Upon "long discussions" it was decided to release this on streaming services as our debut single. Weary Eyed came out a day before my birthday. The reasoning for a single before EP is that it is easier to build up listener base that way than with full albums or EPs. It is possible to keep it steady and stay in the picture. Also, it gives us time to hone the upcoming songs to perfection.
Stay tuned, okay?
There is more incoming after I rerecord all the vocals in a proper studio. The current recordings are from my bedroom. Not fitting if we want to give you quality. We want to give you the best we can with the opportunities we have. Opportunities which we didn't have when Weary Eyed was recorded. All I can say now is that we plan to have the next single out in the first quarter of next year. I hope it goes according to plan and I can soon say the date. It all depends on when we can go to the studio again. When it is not booked.
To be honest, I was the one that wanted this song to be the first one
I was very stern about it, so actually it was a discussion that ended in me saying: this is the one. I left no room for any arguments. It was my desire. My other half made the decision on the release date.
The reason why I wanted Weary Eyed to be our first single so badly was that I fell in love with this song when it had nothing more than a few guitars. I told Kuldar that I want this song to be ours… that it has to get finished on one day or I will bite him. Literally.
But I don't bite in summers, so he got off the hook. Bad joke? It is winter…
Advertisement:
I was adamant about making this our debut single
I think it shows the essence of our little project well: blasting riffs and almost romantic melodies that could lull someone to sleep. There is the type of vocals I had never done before… the innocent and sweet cleans are what I am talking about. I learned to scream again too… Something I didn't practice in years.
I really am in love with the transition into my harsh vocals and the overall contrast in this song
Both vocally and instrumentally. I think the whole composition shows both sides of our art well. As if the song was put into a blender with all of his capabilities as a composer and opposing forces of my vocals. I have always liked the contrast in other artists' songs and so naturally I loved this one to bits. All of our songs get love from us both, but this one was special to me in the way I fell in love with it while it was still bare bones.
The lyrics are quite romantic too. I had this vision from the beginning that I want them to be as sweet as the melody he had created and I wanted the harsh vocals to come as a surprise. I wanted the whole vocal part to be as surprising as his composition of the song. To come in with a bang. Be unexpected from the flow it has in the beginning. But still, form a whole.
I was determined to make it drastically different from the intro of the song.
I wanted to introduce people in a way that they would think that this song is going to be vocally that way but do a 180-degree turn. Just like Kuldar kept adding the guitar parts and piano that made the song whole. That made it what it is today. A collection of beautiful melodies and killer riffs. A song where the vocals are contrasting with each other. I think that we managed well.
But judge for yourself:
The Lyrics to make it easier to understand:
Would you be
A northern star in my sky
Would you love my dark
As much as you love my light
With stars
Upon her weary eyes
She has lost her way
In the orchard of love and folly
Reaching for fire with open hands
She has yet to find her home
In the arms of another soul
Love me
With wine and delicate hands around the shards of my shame
I will carry you in the marrow of my bones
In the marrow of my bones
Would you be
A northern star in my sky
Become lost inside of these tired eyes
Would you love my dark
As much as you love my light
Become lost on the map of my skin
Could someone please
Enlighten me in my turmoil,
Become the light inside of this hollow heart
Should I run and hide or should I stay
With stars
Upon her weary eyes
She has lost her way
In the orchard of love and folly
Reaching for the fire with open hands
She has yet to find her home
In the arms of another soul
Advertisement:
Members of Chaos in Spring
As some of you might know already, there are just two of us. The Duo was formed in 2021 after 7 and a half years of knowing each other and living together. Yes, without him hearing me sing even once. Our mutual friend told him that I used to sing and he told me that "You either sing or I give these songs away". He left me no option. And I am happy that he didn't. Finally, I am doing what makes me happy. And we do it together. A bonus. The coolest part of it. I think.
In the beginning, I played bass on two of our song ideas, but currently am only singing as these songs feel as if I don't have enough skills. He just does it better and is way better at thinking what to do. It was my decision. It was better for the band. I think it sounds way better when he does it.
The one Responsible for all instrumentals
Kuldar Sepp has been playing guitar for 12 years
Kuldar studied guitar already before that, but didn't really play. He wouldn't tell when he really started. Because he thinks that it was not playing.
He got the first guitar lessons from his father who also plays the guitar.
Later on he learned by himself. When he was 15 he got his first electric guitar. Prior to this he played classical. He is now also, again, learning classical guitar. As well as music theory in school where he is studying to become an audio engineer. Kuldar is playing the piano for 1.5 years. This was also first taught to him by the school he attends. Currently, he is honing his skill by himself.
He is composing his own music for 10 years by now.
He was in another modern-metal band for 6 years but decided to part ways.
The band was "Promise of an End" where he was one of the guitarists. They are a live performing band and he has been on stage with them. When the band releases new material I will surely talk about them on this blog. Their single is currently in finishing stages. They do have a demo out where Kuldar played guitar.
Advertisement:
As you can imagine by now, all of the instrumentals heard on the single are played or programmed by him
Drums for example, which he hasn't learned to play well enough yet, are midi-programmed. Kuldar Sepp also composes all of the songs by himself and has whole artistic freedom over it. While I might be more vocal on social media or prepare all of the posts for it… he is the one that, behind the curtains, leads the whole process. You can say he is the leader. The essence of the project. The reason we are here today sharing our music with you. The mastermind. Heart of the band.
He is in a university
As said before, Kuldar studies audio engineering and is on his second year currently. For this reason he mixes and masters all of our songs by himself. Our first song was recorded in our bedroom because we had no access to a proper studio. We are currently in the process of re-recording all of the vocals for our upcoming singles. For the fact that I recorded our music with the gear I did (Shure sm58 and a Yamaha AG03) in the bedroom, he has done a really good work in the mixing process. I think he is getting better by every day. Yes, I am proud of him.
All of the photos of him are captured in the studio where we are recording our future songs
the Vocalist
My name is Reelika Pedak and I am a full-time writer.
It is difficult to write about oneself. I don't think my background is half that interesting. Why? Because am not from a musical background at all. Other than the fact that I have been living with a genius for a long time. Or that I listen to music as if there was nothing else in this life worth living for. Not far from the truth… I am always with my headphones on. I listen to a huge variety of music. At least I think I do. Metal, Jazz and Indie the most.
Most of my writing work is quite romantic or about madness.
I want it to be sweet yet shocking. Some of it is just sweet though. You can hop around my blog and see for yourself. I also do a little bit of voice-acting for my audiobooks which are also available on Spotify and other streaming services. Am currently working on my next poetry book which will be released on 05.02.2023, a novella and a collection of short stories.
The dream of being a singer has been on my mind since I was a little girl
But it was lost in me since I was 21. For the past 10 years, I lost my passion for writing and singing. I dreamt about it before sleep but was crippled by fear. And worked many jobs just to pay bills without having any passion for what I was doing. Am not with a musical background. I was in a band once but was kicked out for the fear of singing in front of other people.
I also did learn guitar, bass, flute, and piano but am impatient and have trigger fingers which hurt very much on the guitar. So I gave up easily. The only instrument I was ever able to really play was the flute.
Advertisement:
I am getting over the fear now
When I was young I sang in the forests of the village where I grew up. There were no people around me and I felt free. I was a huge fan of Emilie Autumn so naturally, I mostly sang her songs since the age of 15. Now after years, I am singing and writing again. I am slowly getting back my voice and courage to sing in front of people. If someone told me 2 years ago that I would have audiobooks and a song out, I would have laughed.
Am just now finding my voice
I feel that I am old enough to know now what I want to do and get better at it with every song I sing. Am very proud of our first song and I feel strongly that this is what I want to do for the rest of my life. I can not even explain the feeling it gives me. It is amazing. Truly. Even through all of my insecurities, I love our songs. They are our babies.
I also manage all of our social profiles
Not only. I also manage our distrokid, splits, marketing materials, Spotify and all else that comes with marketing. I gave him access to all of it but the posts are generated by me and I try to update everything timely as well as my own blog and writing work. And I also hope to get some courses on digital marketing and branding and such so that I could be even smarter in that sense. Currently, everything I do is learned alone by myself. Surely there are smarter people who could teach me more.
Thank You!
Thank you for listening to our song and reading this post.
Follow us on socials: