Omg, omg, omg !!! Finally, after so many years of dreaming… You know, the kind where you lay in the bed just imagining… making up worlds and places. Do people still do that? I can surely say that I have spent the majority of my life daydreaming, being told that it was in vain… But well, I can now say that I do have a poetry book.
The poems were too short to be uploaded separately… But they do tell a story in 20 of them separated into ACT I and ACT II. So to get the whole story you may want to read the other post first. Also there I talk more about the book itself.
Here, in this post…
In this act, I have focused on heartbreak and acceptance.
Playing as I edit the post for final edits: SKYND.
ACT II Track List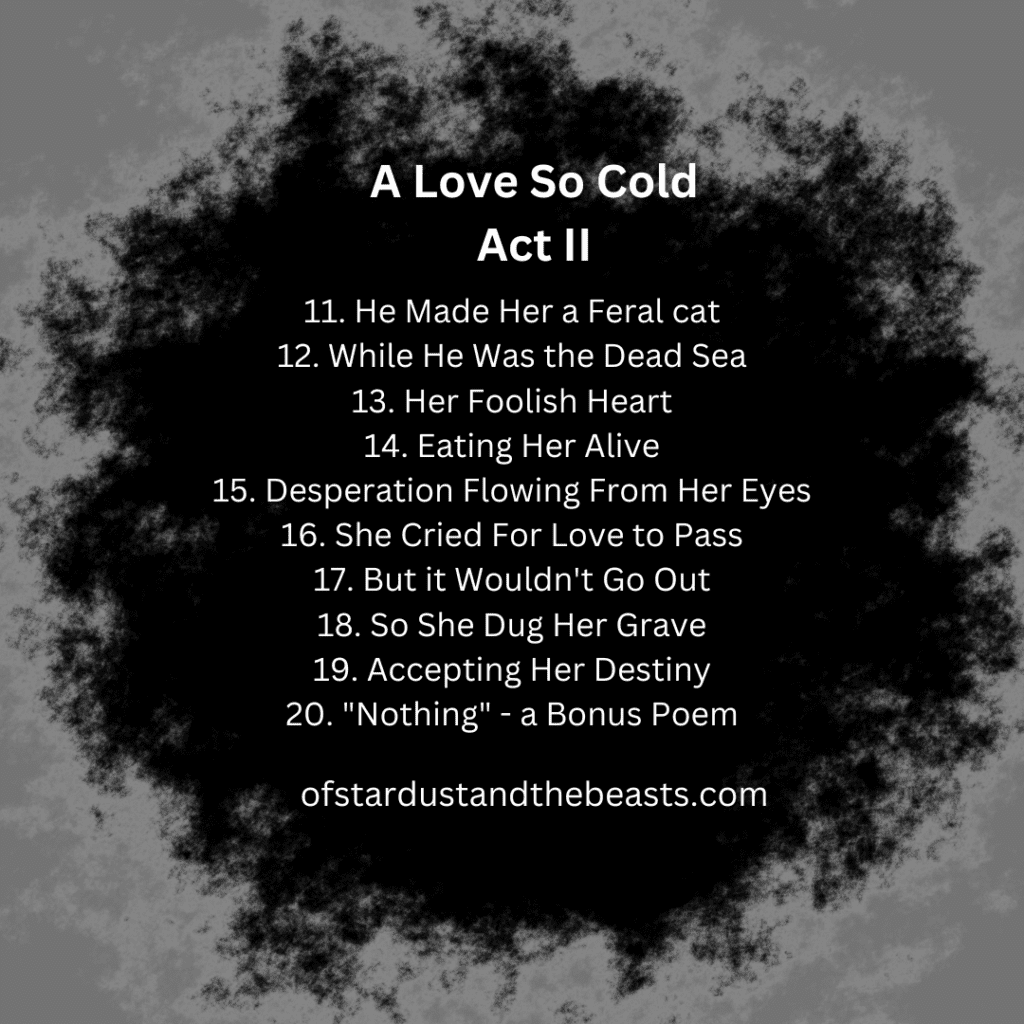 Poetry Book pt. 2
Here we go
He Made Her a Feral cat
Oh,
He makes me go feral
Look at me
A kitten,
A lioness,
A fly,
A wolf,
A sheep,
A lady choking on butterflies
While He Was the Dead Sea
And there was I,
Trembling
My Love,
Was a fierce tempest ravaging my heart
Shaken,
My world was set ablaze by his gaze
And he was
A dead
Calm
Sea
Her Foolish Heart
My foolish heart
Like my mothers' favorite vase,
Plummeting from the shelf I could not reach
And beneath my feet,
A thousand tiny shards
With my dears flowing from my eyes
My love…
a Runoff I was drowning in
My mothers' arms,
Around my shaking, frail, husk
"All is going to be alright my child."
Eating Her Alive
Oh God!!!
Oh, mother!!!
I pray to thee
PLEASE
Help me
Desperation Flowing From Her Eyes
What is the worth of my love
If I can not paint
The city walls
With the colour
Of his eyes!
She Cried For Love to Pass
Oh dear lord…
At this state,
A knife
Straight into this heart of mine
Would be an act of mercy
But It Wouldn't Go Out
And so I have been doomed
To walk this earth,
Without my love by my side
Cursed to live
And write letters
Unheard
So She Dug Her Grave
Yes…
Writing poetry about him
Was a luxury…
I couldn't,
Afford
Accepting Her Destiny
But mother,
Can you not see?
He makes my heart sing
My fingers dancing on the keys
Of an old
Dusty
Pianoforte
Out of tune
And I keep hitting the wrong notes
But my heart hums
And perhaps…
I am,
A Jester of love
But love…
I do
Bonus Poem
"I will just die doing nothing"
You have inspired the art of other people
And that is tenfold more…
Than having died
"Doing nothing"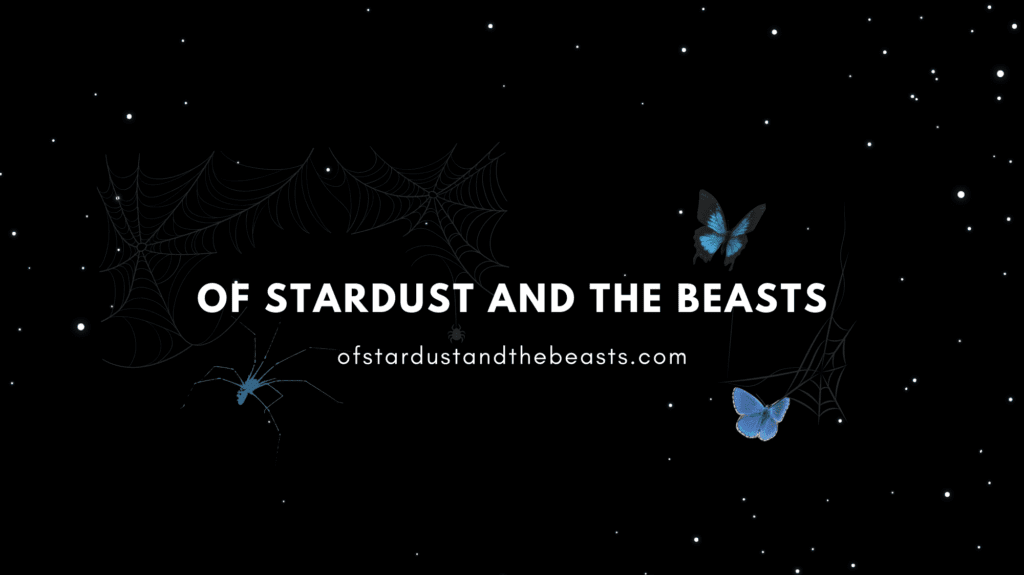 How The Poetry Book Was Made
Some of these poems I wrote years ago, I have just fit them into one book to tell a new kind of a story.
Everything was written and recorded from the comfort of my bedroom, not a perfect setting at all. But it is what I have to work with. I have severe anxiety about singing and talking/voice-acting in front of other people. As awkward as it is… I didn't always have it. It happened somewhere in my youth. I am dealing with it and hopefully I will be able to do it soon.

Gear
The microphone I used was a Shure SM58.
I want to update to a ribbon Goldenage MK III as this would make my voice a little softer I think. I have trouble with whistles in my voice which are hard to remove. Perhaps am not good enough yet. I swear I have a good placement for the mic. I have sung before…
The audio interface I used was a Yamaha AG03, one that needs to be swapped out.
It is good for podcasts and was cheap like the scarlet… But I also sing for a project (metal, including screaming vocals). In the future, I want an Apollo Twin X. That would truly be nice. My mate could use it for his music as long as he gets his RME and I could have good-quality recordings.
I used Reaper to record and mix everything. This was my second book to do audio editing on. I am still learning and making a lot of mistakes, am sure. Really… found a lot of errors on my last book. I just wanted to do everything myself and learn as I go. I know, I know… it doesn't start from perfection… this too is a skill I have to hone. Perhaps I am a little too impatient with myself.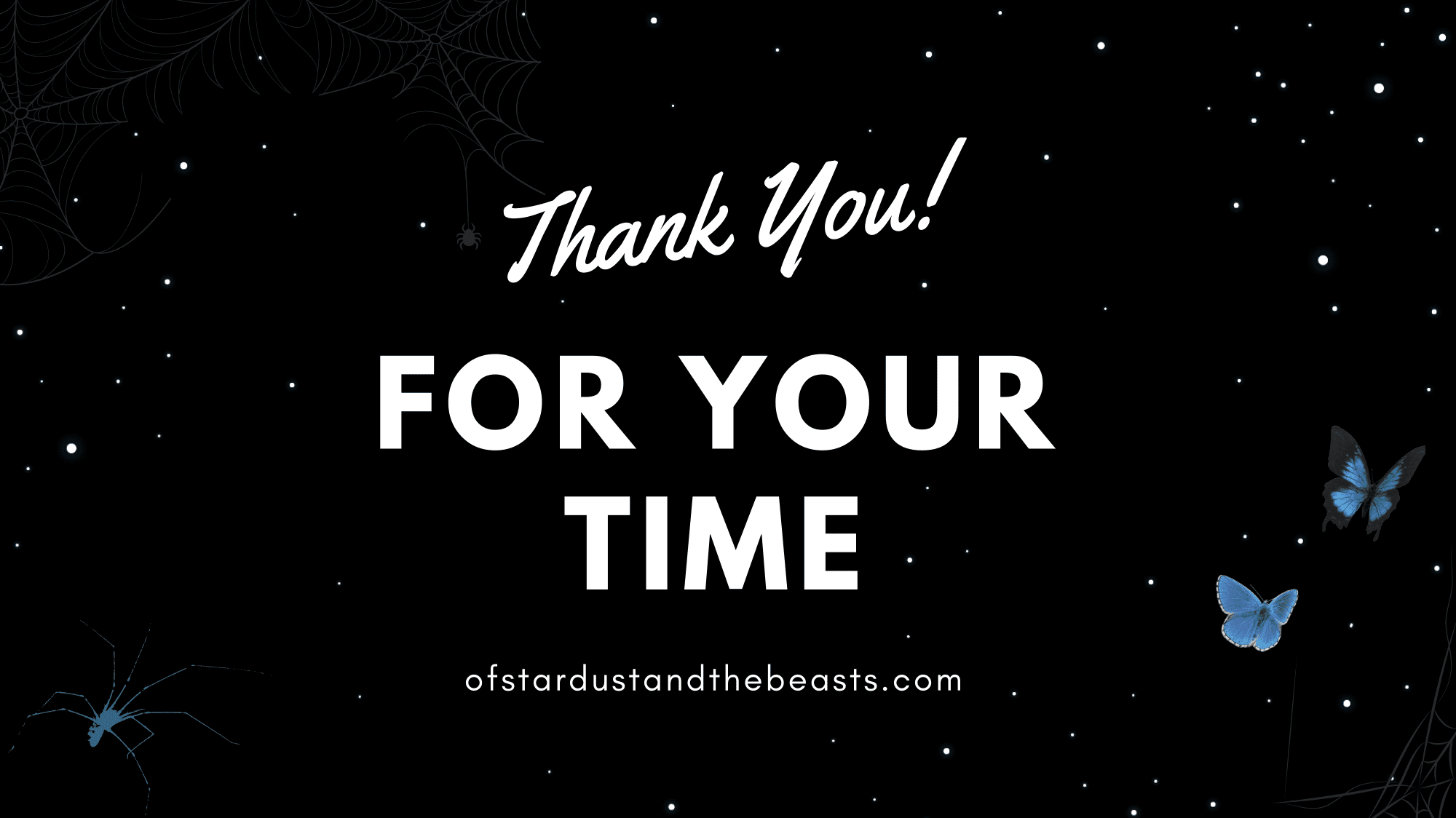 Extra and Extra Marketing
I also make lyric videos for my stories. I have only three currently but am working on the books now… As I recently started making them. I want to get to the point that for future releases I would have them out sooner. This was also my first time making lyric videos. I use Adobe Premiere Pro. The ones that have a picture behind them, I designed the background myself with Canva… But for the ones with the video behind the letters, I downloaded the video from here-MixKit.co. You can find thousands of sounds and videos there under the MixKit license.
Videos are on my YouTube Channel and here on my blog. If you like them you can hit me up and I could do them for you too, for a small fee since am not a pro yet.
My first full book ever can also be found on my blog and was a collection of short six-sentence stories.
Also, on my Ko-Fi page, I have wallpapers, for free downloads, for supporters, and… for ko-fi monthly subscribers/supporters, I have templates to use as they will. Yes, some of it contains my book covers and wallpapers but I aspire to add some unique ones there too. Also, this is the way to support me and help me create even more and better content.